LaserCap
Low-Level Laser light therapy is the most effective non-medical treatment for hair loss. It sounds too good to be true and it's understandable why many would be skeptical. It just sounds so simple. And yet, in our experience, there is now no question that works.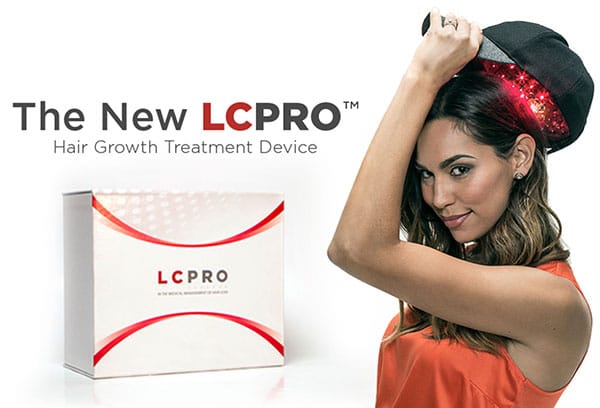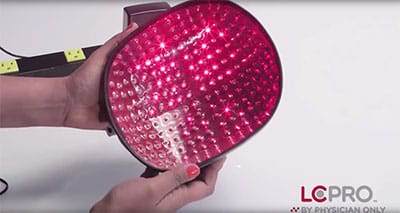 The science behind the Low-level laser therapy has been studied now for over 20 years. However, for almost all this time the only way to get real effective laser light treatment for hair was by large devices only available in doctor's offices. The LaserCap Pro introduces the technology to make it available for you to use at home at your convenience.
Low-level laser therapy works very well as an effective treatment for progressive hair loss in men and women. It slows down hair loss helping hair become fuller and healthier again. It also decreases inflammation in the scalp. We consistently see that in patients who have hair transplantation and use low-level laser therapy that they will heal faster and have a quicker resolution of redness compared to patients who don't. Laser therapy with the LaserCap Pro has been particularly useful in women and young patients who have hair loss.
What Is The LaserCap Pro?
LaserCap is a physician-only, portable home treatment device that can low level laser light therapy to the scalp to delay hair loss and improve thinning hair in men and women. Consistent use of laser therapy to the scalp has been proven to improve the appearance of hair quality and thickness and to improve the hair growth of existing hair follicles.
LaserCap Pro is the first hair growth device to offer the same level of power as large clinical office-based laser devices in a discrete portable device that fits under your favorite baseball cap. It has 224 individual, 5mW diode lasers in a flexible cap that fits comfortably inside almost any hat.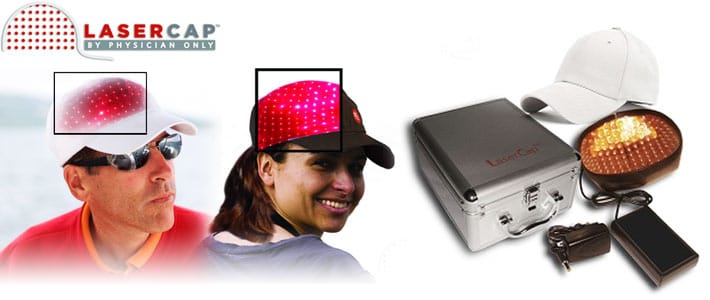 Before the LaserCap was available, the only way to get this level of energy delivered to the scalp was to visit a doctor's office twice a week and sit under a large machine with a dome that would cover your scalp. This was and still is inconvenient, time-consuming and difficult to maintain over a long period of time. All this has changed since the LaserCap became available.
It is powered by a small battery pack that is rechargeable and fit in your pocket or can clip on to your belt. It has almost 40x the power of similar light therapy combs, brushes or band lasers that are available in the market. Is also important to note that the laser Is only available through a doctor's office.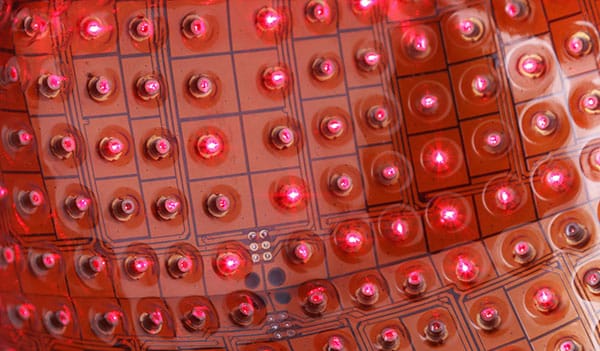 How Laser Hair Therapy Works
Laser light energy uses a specific visible wavelength of red light, 650nm that has a biological effect on cells. This wavelength has been shown to stimulate cellular respiration, that increases energy production in the cells of the hair follicles that can result in extending growth cycles allowing them to grow thicker and healthier. Because these physiological effects of low-level laser therapy have been well documented in the scientific literature the LaserCap has been cleared by the FDA for hair regrowth and treatment of hair loss.

Benefits
Promots Improved Hair Growth
LaserCap Pro is the first portable home device that can generate and deliver up to 4 Joules/cm2 of laser light energy to the entire scalp in a thirty-minute treatment session at home.
Convenience
LaserCap Pro is portable and discreet. You can wear it under almost any hat and you can perform other activities while treating yourself at home.
Most Technologically Advanced
LaserCap Pro is the only home device that delivers the same power as a clinic laser only available in a doctors office in the past. It evenly treats the entire surface area of the scalp in a consistent manner.
No Surgery, No Drugs
It is the only clinically effective way to improve hair that does not require taking medications, using needles or having surgery.
Is It Safe?
The LaserCap Pro meets all the FDA federal safety standards when used as directed. The LaserCap is completely painless with no side-effects that have been documented.
How Do I Use LaserCap?
The LaserCap should be worn thirty (30) minutes, every other day or a minimum of three times per week. Instructions are included in the operations manual provided. The LaserCap is quick and easy because it can be done at home. It is portable. You can wear this while working on a computer, watching television, or any other activity at home. Put the cap on, turned on the laser, and 30 minutes later you're done. It comes with a battery that can be recharged. It can't get easier than that.
Results
They can take 4-6 months before you begin to notice an improvement in your hair. It is important to have realistic expectations of what the LaserCap can achieve. The LaserCap can slow down active hair loss and improve existing hair. It is important to note that it will not grow new hair. Lasercap results will ultimately vary from patient to patient. Routine follow-up visits with Dr. Hamawy are advised to monitor you're the progressive changes in your hair while getting Laser Light Therapy. It is also important to note that in order for the laser to work, you have to use it consistently.
Can Lasercap Be Combined With Other Hair Restoration Treatments?
Yes! We actually recommend this in order to achieve the best natural-looking results. The LaserCap Pro can be combined with PRP hair restoration, Growth Factor Hair Treatments, NeoGraft, hair transplantation, Medications and Hair Nutraceuticals to achieve the best long-term results. Dr. Hamawy will recommend the best treatment options tailored to your specific needs during your initial hair-loss consultation.
Combination Treatments
Lasercap & NeoGraft Hair Restoration

The Lasercap can speed up healing and promote faster hair growth following your NeoGraft hair restoration procedure.

Lasercap & Scalp PRP or Growth Factor Hair Therapy

Lasercap & PRP hair restoration are both non-surgical hair loss treatments that work through different mechanisms to slow down hair loss and improve current hair quality and growth.

Lasercap & Medications

Lasercap treatment can be a standalone treatment or work to augment the effectiveness of medications such as Rogaine/minoxidil and Propecia/finasteride, .It also supplements Nutraceuticals such as Nutrafol and Viviscal.
How do I get a LaserCap Pro?
Unlike many other "laser" light-based devices on the market like the combs, brushes, hairbands and other caps the LaserCap is only available through a doctor's office. To find out more call our office for more information or call our office at (609) 910-1114.
Copyright © 2018 Princeton Plastic Surgeons. All Rights Reserved.