New Jersey's Premier Breast Lift Experts
Just like any other part of the body, a woman's breasts change over time due to the weight of gravity. Life events such as pregnancy, breastfeeding, weight loss, and the natural aging process cause breasts that were once perky to sag and droop. At Princeton Plastic Surgeons, we carry out some of the best breast lifts in New Jersey, always using our artistic intuition and skills to achieve remarkable results. We have helped countless patients restore youthfulness to their breasts, instilling them with newfound confidence.
What Is a Breast Lift?
Otherwise known as mastopexy, a breast lift is a surgical procedure that is designed to elevate the breasts to a more youthful and attractive position. This process involves removing excess skin from the area and tapering the surrounding tissue, resulting in a firmer, more rounded breast appearance while providing ample support for the new breast contours.
Why Choose Princeton Plastic Surgeons for a Breast Lift in New Jersey?
Board certified by the American Board of Plastic Surgery, Dr. Adam Hamawy proudly provides patients at Princeton Plastic Surgeons with the most innovative procedures available today. His background includes serving in the U.S. Army as a combat trauma reconstructive surgeon. His lengthy training background and extensive experience in carrying out aesthetic and reconstructive procedures enable him to curate highly individualized treatment plans for his patients and their unique struggles.

What Can You Expect with a Breast Lift Procedure in NJ?
While all breast lift procedures have essentially the same goal, they can be performed in vastly different ways. One such specification is the incisions, which will look different depending on the needs of the patient.
Dr. Hamawy creates customized surgical breast lift plans for his patients based on:
Degree of breast sagging
Skin quality and elasticity
Amount of extra skin
Breast size and shape
Position of the areolas
Breast Lift NJ Before & After Photos
How Is a Breast Lift Performed?
We carry out breast lifts in our New Jersey practice. The procedure is performed on an outpatient basis at our ambulatory surgery center or a hospital in the area. On average, the procedure will take anywhere from two to three hours to carry out. The procedure starts with incisions in the treatment area.
After this, Dr. Hamawy will:
Lift and reshape the underlying breast tissue to improve firmness and contours
Reposition the nipple and areola to a more youthful height
Reduce enlarged areolae, if necessary, by excising skin at the perimeters
Remove excess breast skin caused by loss of elasticity
If implants are needed, they will be inserted into a pocket on top of or under the chest muscle, depending on how much breast tissue there is. Once the breasts have been reshaped to the patients liking and the excess skin has been removed, Dr. Hamawy will tighten the remaining skin before closing the incisions with sutures. The scars from the incisions will fade away slowly over time.
What Is Recovery Like
after a Breast Lift?
After the procedure is complete, a dressing will be applied to the patient's incisions for the healing process. Patients typically have to spend some time in a recovery area before they are released to go home. It is vital that patients arrange for someone to give them a ride home and stay with them for the first few days following the treatment.
Patients will have to wear a surgical bra for the first few days following the procedure to ensure that the breasts are supported and that swelling is kept at a minimum. Patients can start taking showers two days after the surgery. It is vital that patients continue to wear their sports bras all day and night for the first four weeks.
Most patients are able to get back to work after just one to two weeks of downtime. That said, patients should plan to avoid all strenuous activity (such as exercise) for at least four weeks.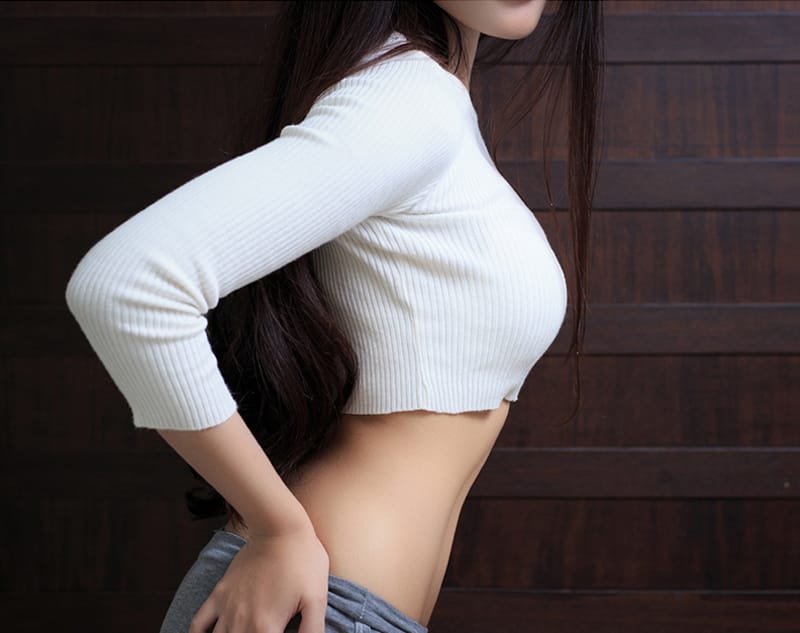 Will I need implants as part of my breast lift?
Depending on the issues a patient is facing, most are content with the results of a breast lift alone. That said, some patients find that they would like to see an increase in size in addition to the lift. These patients have the option of incorporating implants into their procedure to achieve a larger, perkier bust.
Can a breast lift and breast reduction surgery be performed together?
Yes. Many patients look to have a breast lift and breast reduction performed simultaneously. As both treatments involve extracting excess breast tissue, they go hand in hand.
What are the different surgical techniques for a breast lift?
The three most common incision patterns for a breast lift procedure are:
Peri-areolar or Donut Lift: This technique involves a circular incision around the edge of the areola. It is commonly performed to correct mild sagging and in combination with breast implants. The Donut Lift can also be used to reduce the size of the areola.
Vertical or Lollipop Lift: This popular incision pattern is used to lift and reshape the entire breast and remove excess skin with modest scarring that is easily hidden. It involves a circular incision around the edge of the areola and a vertical incision running from the bottom of the areola to the breast crease.
Inverted T or Anchor Lift: Patients with extensive sagging or pendulous breasts can benefit from this technique. It allows for removal of a significant amount of excess skin and tissue. The Anchor Lift involves three incisions – one around the edge of the areola; one running vertically from the bottom of the areola to the breast crease; and one running horizontally along the fold at the base of the breast.
Am I a good candidate for a breast lift?
The best way to find out if you are a good candidate for a breast lift in New Jersey is to schedule a consultation with Dr. Hamawy at Princeton Plastic Surgeons. You may be a good candidate for this procedure if your:
Nipples seem to point downward: When the breast skin loses elasticity and begins to sag, the weight of the breast will pull the nipple downward.
Nipple and areola sit below the crease at the base of the breast: If your nipples sit below the inframammary fold, you may be a good candidate for a breast lift.
Breasts are asymmetrical, pendulous, or unusually shaped: Breast lift surgery is designed to reshape breast tissue along with lifting sagging breasts. It is an effective technique for improving breast symmetry and restoring a more normal, rounded breast appearance.
What issues can be improved or corrected with a breast lift?
Breast lift surgery is most commonly performed to correct ptosis (droopy breasts). This procedure can also improve loss of firmness and reshape tissue to improve the look and texture of the breasts. A breast lift can reposition nipples and areolae that face downward and reduce enlarged nipples and areola.
What results should I expect with a breast lift?
After breast lift surgery at Princeton Plastic Surgeons in New Jersey, your breasts will look fuller, feel firmer, and sit higher on your chest. Your nipples and areolae will be centered, pointing outward instead of downward, and proportionate in size to the rest of your breasts.
2023 © Copyright Princeton Plastic Surgeons. All Rights Reserved. Privacy Policy