Liposuction
Advances in medical science have led to the development of liposuction with a shorter recovery time and smoother results. Lipo is designed to slim and sculpt areas of the body with disproportionate deposits of excess fat. For many people, stubborn fat deposits can persist despite their best efforts with diet and exercise.
At Princeton Plastic Surgeons, we perform advanced and some of the best liposuction New Jersey has available in the cosmetic world. Using state-of-the-art techniques, we can reduce obstinate fat deposits to create a sleeker, more sculpted appearance to your body.
Am I a Good Candidate for Liposuction in New Jersey?
In order to be a candidate the patient must have a healthy BMI. Body Mass Index (BMI) is a person's weight in kilograms divided by the square of height in meters. A high BMI can be an indicator how much fat is present in the body. BMI can be used to screen for weight categories that may lead to health problems and overall health of an individual.
What Is Liposuction Today?
Advanced liposuction techniques differ significantly from liposuction of the past. The new techniques are less invasive with a quicker, easier recovery and produce smoother, far superior results. They use smaller, more refined instruments, which allow for more defined treatment in different areas of the body.
Why Choose Princeton Plastic Surgeons for Liposuction?
Princeton Plastic Surgeons is a boutique plastic surgery clinic providing personalized, high-quality treatments to achieve optimal results for our patients. Dr. Adam Hamawy has a background as an Army combat trauma and reconstructive surgeon. He is board-certified, with a practice focused on aesthetic and reconstructive procedures. With his years of skill and experience in this field, he provides some of the best results in liposuction Princeton, NJ has to offer.
Cutting-Edge
Liposuction Techniques
New liposuction procedures include:
Tumescent liposculpture
This procedure does not require general anesthesia. A fluid solution containing lidocaine (a local anesthetic) and epinephrine (synthetic adrenalin) is injected into the targeted area of fat deposits, causing the fatty layer to swell and become firm, which allows for better control and contouring. The solution shrinks blood vessels temporarily, reducing bruising, swelling, and post-procedure discomfort.
Body-jet procedure
Body-jet liposuction is a minimally-invasive technique that uses water streams to loosen and remove unwanted fat. This gentle procedure produces precise results, with less bruising, swelling, and downtime.
VASER liposuction
Also known as LipoSelection, VASER liposuction is an innovative, minimally-invasive technique that uses ultrasound energy for advanced body sculpting. With VASER lipo precision, your surgeon can target fat while protecting surrounding tissue for dramatic, eye-catching results.
SmartLipo laser liposuction
SmartLipo is an innovative procedure to remove excess fat while tightening the skin. It uses a laser fiber inserted through a small cannula (thin metal tube) to remove excess fat and restore youthful firmness. Many patients are able to return to work and normal activities within only a few days after a SmartLipo procedure.
Fat transfer
Using advanced liposuction techniques, our New Jersey liposuction surgeon can harvest fat from excess fat deposits at waist, love handles, thighs, or buttocks, process and purify the fat, and inject it into areas that need more volume, such as the face, hands or the breasts. With this technique, patients get the benefits of two procedures in one.
What Can You Expect in a Liposuction Procedure?
Advanced liposuction is typically performed as an outpatient procedure using local anesthesia or intravenous sedation. First, a solution containing lidocaine and epinephrine is infused in the treatment area to reduce bleeding, trauma, and discomfort.
During your New Jersey liposuction procedure, your surgeon makes a very small, inconspicuous incision, through which a cannula is inserted into the fatty area under the skin and fat is loosened and removed. The length of the procedure can vary depending on the area being treated and the amount of fat.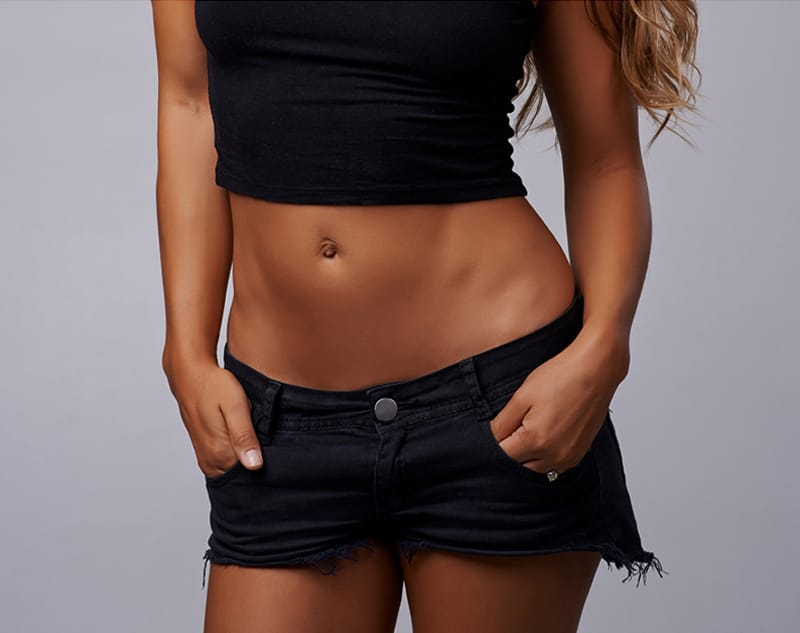 Is Recovery Easier with Advanced Liposuction Techniques?
One of the major benefits of advanced liposuction techniques is that recovery is faster and easier than with traditional liposuction. Advantages of these state-of-the-art procedures include:
Minimally-invasive
No general anesthesia or large incisions required
Minimal bruising
No stitches or scars
Faster recovery time
Gentler techniques and less post-procedure discomfort
What can liposuction do for the body?
Stubborn fat pockets in various places can persist after weight loss, giving a disproportionate appearance to the body. Liposuction can significantly reduce these trouble spots and reshape the body to create a sleeker, more toned and youthful look. Once the fat cells are removed through liposuction, they can no longer store and accumulate fat.
Laser liposuction techniques also have the benefit of stimulating collagen production. New collagen growth after a liposuction procedure helps minimize wrinkles and firm the skin for a more youthful appearance.
How soon will I see results after liposuction?
You will see results after you heal from the procedure. Your new body contours become visible as swelling and fluid retention subside.
How long do liposuction results last?
Fat cells removed from the body with liposuction do not grow back, and results can be long-lasting. To maintain optimal results, it is important to maintain a stable weight. If you gain significant weight in the future, your body is likely to store fat in other locations, which can change your overall appearance.
Will I need to wear a compression garment after the procedure?
Our plastic surgeon may give you a compression garment to wear for a few weeks after a liposuction procedure. The purpose is to help minimize swelling and promote optimal skin contraction.
What is a liposuction cannula?
A cannula is a small, stainless steel tube used in liposuction procedures. It is inserted through a small incision in the skin. Subcutaneous fat is removed from the body through the cannula.
What areas of the body can be treated with liposuction?
Advanced liposuction techniques are more precise and less traumatic than traditional liposuction. These more refined techniques allow surgeons to safely and effectively treat a range of body areas, including:
Abdomen
Waist
Back
Buttocks
Thighs
Knees
Breasts
Arms
Under the chin
What makes tumescent liposuction safer than traditional liposuction?
Tumescent liposuction involves an infusion of fluid containing lidocaine and epinephrine into the treatment area. It not only allows for better body sculpting control and precision but also reduces bleeding, swelling, and trauma to the tissue. It is a safer procedure because it can be performed entirely under local anesthesia.
Am I a good candidate for liposuction?
If you are within 30% of your ideal weight, have good skin elasticity and muscle tone, and want to contour and reshape your body, you may be a good candidate for liposuction. This procedure is designed for reducing diet and exercise-resistant fat deposits, rather than for weight loss. Schedule a consultation at Princeton Plastic Surgeons in Princeton, New Jersey to find out if liposuction is the recommended treatment for you.
2023 © Copyright Princeton Plastic Surgeons. All Rights Reserved. Privacy Policy