What is Rhinoplasty?
Rhinoplasty, also known as nose sculpting, nose reshaping, or a "nose job", is a surgery that enhances the look of your nose. This may be performed for cosmetic reasons or to correct a birth defect or injury and help improve breathing.
Dr. Adam Hamawy of Princeton Plastic Surgeons specializes in and is known for some of the best results in rhinoplasty NJ has to offer. He received his credentials at some of the nation's most prestigious medical centers. He is certified by the American Board of Plastic Surgery and the American Board of Surgery.
Should I get Rhinoplasty?
Rhinoplasty is used to describe a set of surgical techniques that address cosmetic or medical problems with the exterior or interior nose. There are several approaches to a nose job Dr. Hamawy can take depending on each patient's physical features, reason for wanting the procedure done, and desired outcome. The two main techniques are closed rhinoplasty and open rhinoplasty.
Before you decide to have your rhinoplasty in New Jersey, or any other facial plastic surgery think carefully about your expectations and make sure you discuss them with board-certified NJ plastic surgeon Dr. Hamawy.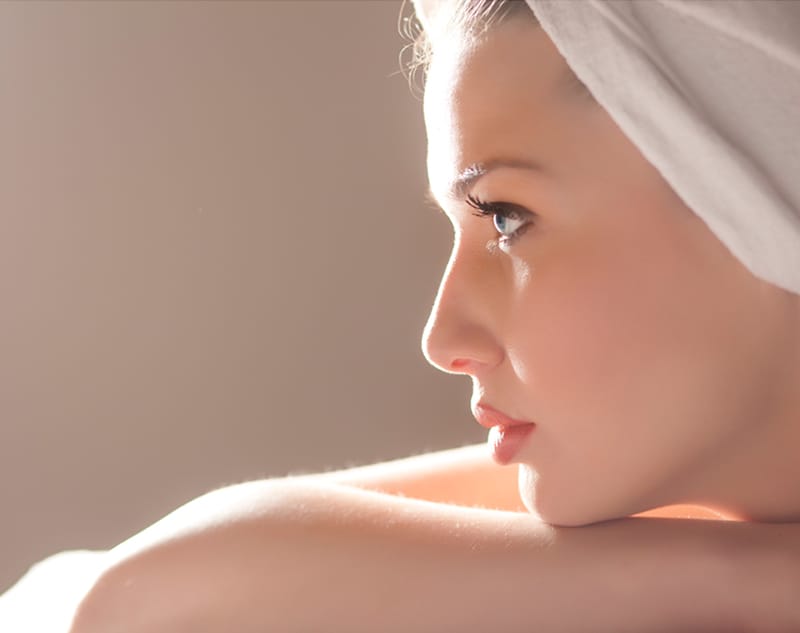 Reasons to Get Rhinoplasty?
This procedure may be undertaken for one of several reasons, including a damaged nose due to athletic injury or some kind of accident, a congenital medical condition, or an aesthetic dislike for the shape of the nose.
Cosmetic Reasons
Many patients come in for nasal surgery for cosmetic reasons. Issues like the nose being too wide, too narrow, misshapen, slanted, or has a bump in the bridge are common and can cause self-consciousness individual. Our Princeton, NJ rhinoplasty can work wonders for these types of aesthetic issues and grant patients the nose they have been dreaming of to make the entire face look more balanced, cohesive, and attractive.
Deviated Septum
This condition occurs when the septum – the column of cartilage that normally stands in the center of the nose – is crooked, and may make the face appear crooked as a result. Most people actually have a septum that is somewhat off-center, but in some cases the problem is severe enough that the individual opts for a corrective rhinoplasty, or septoplasty. A more serious deviated septum can make it more difficult to inhale and exhale through the nose, cause moderate to extreme snoring, and can sometimes lead to sinus trouble and infection.
Injury
Patients may choose to undergo rhinoplasty after experiencing blunt force trauma to the nose. This can happen during a car accident, a high-contact athletic event, a fight, or just a moment of clumsiness. After such an incident it is advisable to seek surgery within a week or two of injury, before the bones start to solidify in the broken pose.
Rhinoplasty Before & After
Your NJ Rhinoplasty Consultation
During your first visit in either of our New Jersey locations, Dr. Adam Hamawy will ask you about your desired appearance to help him understand your expectations of a nose job and let you know if they can realistically be accomplished. He will examine the inside and outside of your nose, considering factors such as the structure of your nasal bones and cartilage, the thickness of your skin and how your nose relates with the rest of your facial structures. Your age will also be considered. It is best for younger patients to have reached full facial growth, usually between 15 and 17 years of age.
Be prepared to discuss any medical conditions you may have such as allergies, prior nose injuries no matter how minor, breathing difficulties, any surgeries and medications, vitamins or other supplements that you currently take. If you are a smoker, you will be asked to stop smoking at least 3 weeks before your surgery. Depending on your medical status, Dr. Hamawy may ask for additional evaluations before proceeding with a surgery.
How can I prepare for my rhinoplasty in NJ?
Preparing for your rhinoplasty in New Jersey is much like preparing for any surgery. Patients are asked to stop smoking well before the operation, as it can inhibit the body's healing process and put you at risk of side effects. The same goes for anti-inflammatory medications like aspirin and ibuprofen. Patients will also be advised regarding any routine medications and prescriptions that may need to be altered or halted altogether to minimize health risks before the surgery. Dr. Hamawy will give each patient more detailed pre-op instructions during the consultation visit before the surgery that are specific to their own set of circumstances.
What are the different types of rhinoplasty?
Rhinoplasty can be performed as a primary or secondary surgery. Primary rhinoplasty surgery refers to surgery done on the nose for the very first time. The goal of primary rhinoplasty surgery is to fix all functional and/or cosmetic problems so as to avoid the need for a second nose surgery. Secondary rhinoplasty surgery, also known as revision rhinoplasty, is a term used to describe any surgeries performed on a nose that was previously operated on. This is performed when the patient is not satisfied with the outcome of their previous nose surgery or surgeries. Open or closed technique can be used to accomplish either type of rhinoplasty depending on the issue and aesthetic/functional goal.
What are the various rhinoplasty techniques?
Rhinoplasty can be performed either by an open or a closed (endonasal) approach. The closed approach uses incisions that are all inside the nostrils and are useful if small or minor changes are required. In the open approach, a small incision is made through the small column of skin between your nostrils allowing a direct view of your nasal structures for more extensive and precise sculpturing.
The nature of the surgery will depend on what needs to be addressed. This may include dorsal hump reduction, tip modifications for a boxy, bulbous or droopy tip, and/or correction of breathing difficulties such as a deviated septum.
What should I know the day of my surgery?
Before surgery, you will be given medicine to lessen the anxiety and pain. General anesthesia is typically preferred for your comfort so you will be completely asleep for your rhinoplasty in NJ. You will meet your anesthesiologist before your procedure and he or she will answer any questions you may have about your anesthesia. The surgery usually takes 2 to 3 hours. After surgery, you will awake in a recovery area where you will be closely monitored.
Surgery may be performed as an outpatient procedure at our certified ambulatory surgery center or at one of several affiliated hospitals. Be sure to arrange for someone to drive you home and stay to help you for at least the first day while at home.
Recovery from Rhinoplasty
After surgery, you will have a splint on the outside of your nose to help maintain the shape and protect the nose. You may also have a soft splint inside the nostrils to help stabilize the septum. The splints will be removed one week after your surgery. You may experience some discomfort or pain. A little bleeding is not uncommon and you may have stuffiness for several weeks.
The first day, your nose will swell and you may have some bruising around your eyes. This usually reaches its peak at 3 days then the bruising and most of swelling will gradually resolve over the next two weeks. However, because complete resolution of the swelling takes several months, it may be from nine months to one year before you are able to see your final results.
Most patients return to work after one week. However, plan on having limited physical activity and restrictions against vigorous exercise or contact sports for at least four weeks. Your follow-up visits will usually start a few days following your surgery for a checkup and/or splint removal. During your postoperative visits, Dr. Hamawy will review activity limitations, incision care and concerns you may have. Following this visit you will follow up again in approximately 3 weeks, 3 months, and one year.
When will I see my final results?
The outcome of this type of surgery is long-lasting, but may take a little while to be fully revealed. Results will start to become visible as the bruising and swelling that occurs after a surgical procedure begin to heal and fade. Over the following year you will notice a slow transformation as the newly sculpted nose settles into its ultimate form.
Rhinoplasty Pricing & Cost
Average cost: $10,000-$12,000. The cost of your rhinoplasty procedure will depend on your specific case and if you opt to receive additional treatments or procedures. Please feel free to schedule a private consultation to receive a quote. After your initial consultation, you will be quoted a price that will include Dr. Hamawy's fee, as well as the operating room and any anesthesia fees. If you have any breathing difficulties through your nose or a deviated septum due to trauma, insurance may sometimes cover part of the costs. Financing options are also available. Please bring your insurance information with you to your initial consultation.
Why Choose Dr. Hamawy for my Rhinoplasty Procedure?
Dr. Adam Hamawy is board certified by the American Board of Plastic Surgery, specializing in both aesthetic and reconstructive procedures. Trained at UT Southwestern Medical and Weill Cornell School—two of the most well-respected institutions for plastic surgery.
Going beyond what is expected is at the heart of Dr. Hamawy's approach. He strongly believes every patient must be considered as a person first and foremost. Only then can technical expertise be used to its greatest advantage – translating subtle nuances into a more positive self-image through cosmetic enhancement. Dr. Hamawy sees his role as being a combination of technician, artist, and teacher. Patients have so many choices today and nothing takes the place of patient education.
A good plastic surgeon might have the technical skill, but a great plastic surgeon recognizes their role as a doctor and encompasses a psychological and social element.
2023 © Copyright Princeton Plastic Surgeons. All Rights Reserved. Privacy Policy