Why get a Tummy Tuck?
Like many other women and men, you may be frustrated with the look of your abdomen, despite diet and exercise. Fret no more, tummy tuck surgery is designed to dramatically define and slim your midsection to improve contour and reveal a toned look.
At Princeton Plastic Surgeons, our goal is to deliver on your aesthetic goals and make you look and feel great with arguably the best tummy tuck New Jersey has to offer.
What is a Tummy Tuck?
A tummy tuck, or abdominoplasty, is a procedure that removes the extra loose skin and tissue in the lower abdomen and tightens the muscles of the abdominal wall. Patients seeking a tummy tuck may have recently lost a large amount of weight or given birth, leaving their abdominal skin sagging and muscles stretched out. Tummy tuck surgery with Dr. Hamawy in either of our New Jersey locations can help you regain your toned, youthful body as a procedure on its own, or be paired with other body contouring procedures such as liposuction for optimal results.
Quick Tummy Tuck Facts
Length

: 2-3 hours

Anesthesia

: General

In/Outpatient

: Outpatient or one night in hospital

Side Effects

: Possibility of bruising, swelling, and some pain

Recovery

: Return to work: 2 weeks – Light exercise: 4 weeks – Swelling completely resolve: 4-8 weeks

Ideal candidates for our tummy tuck in Princeton, NJ are women and men who are in good shape but are not happy with the appearance of their midsection. These patients often experience:
Loose abdominal skin
Stretched out abdominal muscles
Localized fat deposits
The above symptoms can be caused by:
Pregnancy
Significant weight loss
Genetics
Despite hours in the gym, it may seem impossible to tone a protruding abdomen or lax skin. This is because often times the stretching or sagging is to the point where it is not repairable by your own means and must be surgically addressed.
A tummy tuck is by no means a replacement for working out and eating well. It is a procedure reserved for those who have exercised and eaten well with no apparent results. Still continuing to work out and eat well is important to maintain tummy tuck results.
---
Techniques
At Princeton Plastic Surgeons, Dr. Hamawy uses several techniques to treat a variety of cases. The technique used in your specific case will be determined during your consultation examination.
Full Tummy Tuck
A full tummy tuck removes lax skin and sutures the abdominal muscles above and below the bellybutton. An incision is created from hip to hip as well as around the bellybutton. The muscles are tightened, and the skin is then redraped with a new incision for the bellybutton as the old positioning is removed in the excision process.
Modified Tummy Tuck
A modified tummy tuck is a technique reserved for patients who need very minimal help in contouring their abdomen, as just the skin or just the muscles are addressed with this method. Results will not be as dramatic as a fully tummy tuck.
Mini Tummy Tuck
A mini tummy tuck follows the same technique as a full tummy tuck, except on a much smaller scale. Muscle tightening is typically performed just on muscles below the bellybutton but can be performed above the belly button as well. There is also less skin excision in a mini tummy tuck, so the incision is roughly half the size of a full tummy tuck, and the resulting scar is easily concealable with jeans or a bikini.
High Lateral Tension Tummy Tuck
A high lateral tension or high-tension tummy tuck is great for women who desire the "corset" look. It follows the same technique as a full and mini tummy tuck, but in addition to removing excess skin and suturing the muscles vertically, the muscles are sutured horizontally as well. This additional step cinches the waist and gives more definition to the waistline.
Dr. Hamawy on Tummy Tucks
Dr. Adam Hamawy is a plastic surgeon in New Jersey who specializes in cosmetic surgery with significant experience in body contouring, including abdominoplasties. He received his credentials from some of the nation's finest medical centers. He is certified by the American Board of Plastic Surgery and the American Board of Surgery. Before you decide to have a tummy tuck in New Jersey, think carefully about your expectations and make sure you discuss them with Dr. Hamawy.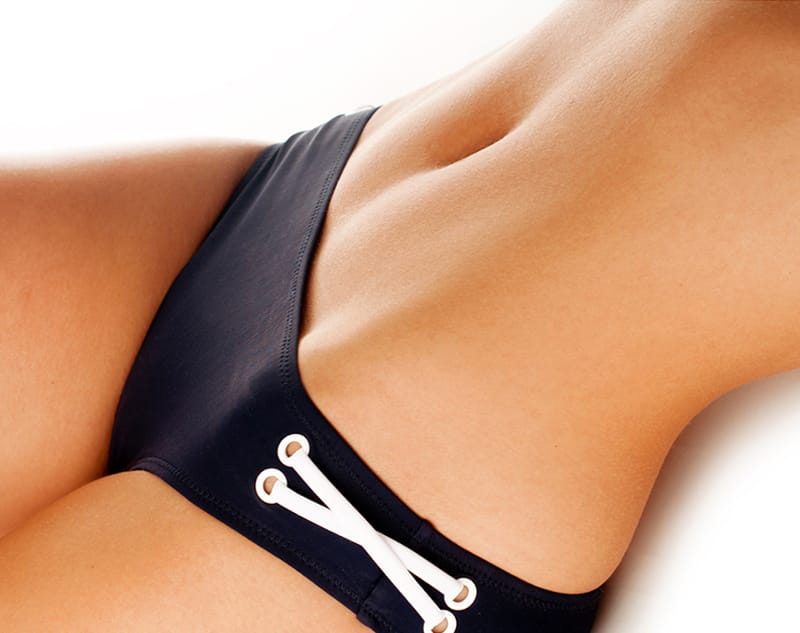 Your Consultation
During your initial tummy tuck consultation at either of our New Jersey offices, Dr. Hamawy will examine and measure your abdomen, considering factors such as the quality of skin, the amount of underlying fatty tissue, and the contour of your body. Be prepared to discuss any medical conditions you may have such as allergies, prior surgeries and medications, vitamins or other supplements that you currently take.
It is important for you to provide complete information. If you are a smoker, you will be asked to stop smoking at least 3 weeks before your surgery. Dr. Hamawy is concerned about your health and safety and, depending on your medical status, may ask for additional evaluations before proceeding with surgery.
You will learn about the procedure and its limitations and risks, and Dr. Hamawy will discuss your needs and concerns. He will explain which surgical techniques are most appropriate for you based on your examination and factors such as the distribution of fatty tissue, the position of your abdominal muscles and quality of skin tone. After your consultation, photographs will be taken for your medical records.
Ancillary and
Alternative Procedures
There are many suitable ancillary or alternative procedure for a tummy tuck. Liposuction is a procedure which removes localized fat deposits with suction from the abdomen or any other part of the body, but does not tighten the skin.
SmartLipo is similar to liposuction, however instead of suctioning the fat from the body it uses specialized laser technology to melt the fat first, while simultaneously tightening the skin. Either one of these fat reduction procedures can be performed along with a tummy tuck for a flat, defined abdomen, or as alternatives if fat reduction is your main concern.
Mommy Makeover is a great combination procedure for mothers who wish to regain their defined, youthful bodies before their pregnancies. Popular Mommy Makeover procedures to choose from are breast augmentation, breast lift, breast reduction, tummy tuck, and/or liposuction.
---
The Day of Surgery
You will meet your anesthetist before your NJ tummy tuck procedure and he or she will answer any questions you may have about your anesthesia.
Before surgery, you will be given medicine to lessen the anxiety and pain. General anesthesia is typically used, so you will be completely asleep for your abdominoplasty. The surgery usually takes 2 to 3 hours. After surgery, you will awake in a recovery area where you will be closely monitored.
Surgery may be performed as an outpatient procedure at a certified ambulatory surgery center or at one of several affiliated hospitals with an overnight stay. Whether you stay overnight or not, be sure to arrange for someone to drive you home and stay to help you the first few days while at home.
Depending on the amount of fat present, some liposuction may be performed on your sides and upper abdomen in order to improve the overall three dimensional contour.
Before going to surgery, Dr. Hamawy will draw an incision line with a marker. This usually lies just above the pubis and extends at least from hip to hip across the lower abdomen. When you are under anesthesia, the skin is lifted from your abdominal wall and the belly button is released from its surrounding skin in order for it to stay attached to the abdomen. The muscles are tightened to form an internal corset and the skin is draped over, removing any excess. Dissolvable sutures are used to close the skin and a compression garment is placed over your abdomen before you wake up.
Tummy Tuck Recovery
Be assured that your relationship with Dr. Hamawy does not end after your surgery. If you have any concerns during your recovery or have more questions at a later time, you can always contact Dr. Hamawy.
Some discomfort or pain is normal following surgery. When you are discharged, you will be given prescriptions for pain medication. Your abdomen will feel very tight and you will walk stooped over for the first week and slowly straighten as your skin stretches. You will wear a binder or compression garment for three weeks, day and night, following your surgery.
Initially, your scar will appear obvious to you. By three weeks, it is turning into a thin red line that will slowly fade to a light brown or white line over the next several months. It is usually well hidden in your swimsuit or underwear.
Most patients return to work after two or three weeks, however, plan on having limited physical activity and restrictions against exercise for at least six weeks. You may have drains that will require you to measure and record the fluid that your body expresses. These are usually removed in the office after five to seven days.
Your follow-up visits will usually start five to seven days following your surgery for a checkup and/or drain removal if necessary. During your postoperative visits, Dr. Hamawy will review activity limitations, incision care and concerns you may have. Following this visit you will return in approximately 3 weeks, 3 months, 6 months and one year.
---
After your initial consultation, you will be quoted a price that will include Dr. Hamawy's fee as well as the operating room and any anesthesia fees. If you have any chronic rashes or infections due to excessive overhanging skin on your lower abdomen, insurance may sometimes cover part of the costs. Please bring your insurance information with you to your initial consultation.
2023 © Copyright Princeton Plastic Surgeons. All Rights Reserved. Privacy Policy